AU6 16, 1954 SPORTS ILLUSTRATED
WITH 27, PAGE CARD FOLD OUT, IN
DEMAND FOR GRADING

ORIGINAL FIRST ISSUE AUGUST 16,1954
SPORTS ILLUSTRATED WITH UNCUT SHEET
OF 27 CARDS

1975 TOPPS PETE ROSE

1954 SI Topps WILLIE MAYS 9 MINT

CARDS ARE CASED IN A TAMPER PROOF CASE AND RECORDED IN A SERIAL BARCODE DATA BASE
INDICATING THE CARD, YEAR OF THE CARD, MANUFACTURER AND THE DATE THE CARD WAS GRADED
AND THE GRADE ISSUED. ALL SERIAL #'S MAY BE VERIFIED BY CONTACTING US.

All Rights Reserved Copyright 2010

CLASSIC SPORTS GRADING

CSG


WELCOME TO CLASSIC SPORTS GRADING. WE OFFER THE BEST SERVICE
AND PRICES IN THE INDUSTRY.

GRADING AS LOW AS $5.00 PER CARD!!!!!

WE OFFER A 3 BUSINESS DAY SERVICE!!

WE HAVE EXCELLENT TURN AROUND TIMES, AND VERY COLLECTOR
FRIENDLY AFFORDABLE PRICES.

WE SPECIALIZE AND WILL CUT PAPERSTOCK CARDS FROM THE FIRST
ISSUE OF SPORTS ILLUSTRATED (SI). THESE CARDS HAVE INCREASED IN
VALUE,POPULARITY AND DEMAND.


WE WILL ALSO GRADE ANY STANDARD SIZE CARD. PLEASE GO TO THE
"SERVICES" PAGE TO LEARN MORE.



PLEASE CHECK OUT OUR SITE AS YOU WILL FIND ALL THE
NECESSARY INFORMATION TO MAKE AND EXPEDITE YOUR ORDER
AND THE BEST EXPERIENCE YOU HAVE HAD.

PLEASE FEEL FREE TO E-MAIL US AT

INFO@CLASSICSPORTSGRADING.COM
AND WE WILL GET BACK
TO YOU WITHIN 24 HOURS GUARANTEED.

Here is a useful source where to bet on baseball in the US.

CLASSIC SPORTS GRADING
P.O. BOX 6676
ST. LOUIS, MO 63125



.

CLASSIC SPORTS GRADING IS MAKING A OBJECTIVE AND FAIR JUDGEMENT AND OPINION AND WE
ACCEPT NO LIABILITY FOR THE INCREASE OR DECREASE OF EACH ITEMS VALUE.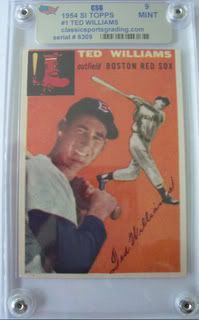 1954 SI TOPPS TED WILLIAMS 9 MINT

1978 TOPPS RYAN/NIEKRO 9 MINT

1967 TOPPS HANK AARON

1967 TOPPS TOM SEAVER ROOKIE